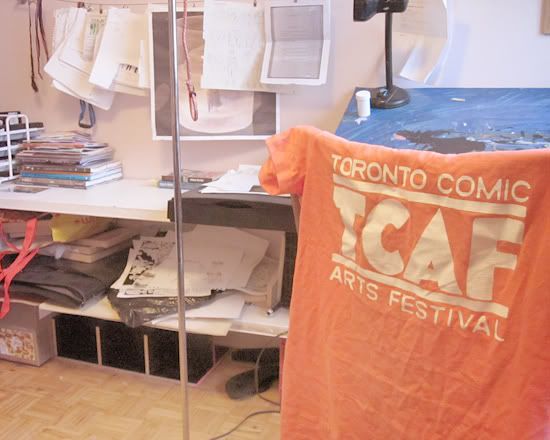 It has taken me a couple days to settle my thoughts, excitement, and lingering hangover from the adventure that was this years TCAF. Being a part of it left me with some very strong emotions and thoughts, which I'd like to share.
I had always considered myself a comics person, had put a lot of work online, mostly in massive comic tournaments on deviantart.
Last year it was like discovering comics for the first time. I had stopped making things like I used to, and was really out of the loop when TCAF 2011 happened. I really had no idea what was happening in the world of comics. I don't think I really understood what indie comics were. Scott Pilgrim was a big deal (it still is, but now I know there's a veritable
slew
of people making unique graphic novels). I entered 2011 with a really strong urge to become part of something, I guess. I didn't have anything to show at TCAF, but was really excited to be there. Even though I had lived in Toronto for a few years, I'd never been to the festival. I signed up to volunteer, and did it all weekend long. It was exhausting, fun, strange. I realized just how little I knew about this world that I had always counted myself a part of. I'm only starting to grasp names, books, catch up on reading now. The festival made me feel small because I saw that I was actually very far from my goal.
Volunteering is something that is important to me, a little way to give back to things that give to me, so I managed to squeeze in a few solid hours of box lifting Friday night. TCAF volunteers are a fantastic crew, friendly, hardworking, endlessly cheerful, and with more than a handful of hopeful cartoonists in amongst them as well.
Thanks to the most excellent Wowee Zonk Team (
Chris
,
Patrick
and
Ginette
), I got to nab a table in the Small Press Showcase. I was next to the incredibly talented and hardworking
Sabrina Scott
, and was proudly flying a banner with my name on it, made by the formidable
Laura Harte
. The small press area was teeming with talent, from the haunting and erotic work of
Lala Albert
to the melancholy and human buildings of
Ryan Dodgeson
. It felt great to be in with such talent.
I think I approached being an exhibitor in a way I can be proud of. There was some very awkward thrusting of zines into unwanting hands last year, which I did not do this year. Having learned of so many amazing working artists who would be attending, I was seriously concerned that I would turn into a hideous gushing mess, but an uncharacteristic calm let me meet a lot of excellent people and have a couple normal human conversations without being too weird. Who knew? Though I met
many
awesome people (including a whole slew of awesome American game designers at 5 in the morning, geez!), it felt especially good to finally shake the hand of
Anne Koyama
, and to meet fellow Torontonians
Zach Worton
and
Michael DeForge
. What, you guys know my moniker? Damn! I must be doing something right.
I didn't get to meet
half
as many folk as I had hoped to. I had such a strong need to be at my table the whole time. Though there are so many international guests and guests from faraway parts of Canada, all of whom may not return for years if ever, I really wanted to stay where I was. Yeah, I wanted to get Meat&Bone post cards into people's hands, but the conversations I was having, the high of interaction, it so hard to walk away from. I met some seriously awesome people who had great things to say about my work. However, I was ecstatic to meet
Meredith Gran
at the TCAF launch party, and by sheer luck chat with
Ryan Sands
. I made sure to say hi to
Kate Leth
and
Kevin Czapiewski
(and I kinda cleared out his table, darn there was some good stuff!), and the most adorable
Hamletmachine
.
A highlight for me was my visit to the
Doug Wright Awards
. A few friends bemoaned the ceremony as stuffy and corny, but I loved it. There were mistakes, it was casual, yes and cheesy, but it was so honest and endearing and maybe
quite
Canadian, that I am so glad I went. It seems like awards big and small have the same funny hang ups. When I was doing tournaments, there was always an unpredictable mix of humour, talent and...I don't know, is there an
umami
for comics? Some hard to place quality between popularity and the support of the community? that tilts the scale so that a trophy is awarded. Even just watching from the sidelines, I felt wrapped up in what the nominees might be feeling. Even if it's silly at times, this is
our
award. I feel that it's impossible not to appreciate that.
Ironically, it was an American who made me aware of the Doug Wright awards. Before
Dustin Harbin
's mini comic from the last DWA, I hadn't heard of them. I had lived under some kind of rock. It was wonderful to hear him speak with such courtesy when presenting the Spotlight Award (also? the voice he has is nothing like what I imagine from his journal comics). He is kinda a walking comics legend in my eyes, and i read his blog posts voraciously.
Meeting new people is great, and makes me feel like I'm making something of myself (and making friends! Hello, friends), but TCAF also presents an opportunity to spend a great, meaningful amount of time with old friends. Tabling with Sabrina was a delight. Big thanks to
Mathew Kumar
for dragging me around to some kind of karaoke madness after the TCAFete! Hanging out with
Jason Bradshaw
at the closing party was excellent, and I'm looking forward to tucking into his latest 'Boredom Pays' tonight. I also want to give an extra hearty shout out to
Matt Demers
, who wrote a piece for the Torontoist about new talent at TCAF, and included me and my pink skull
Wenceslas
in the roster.
You can read that article
HERE
.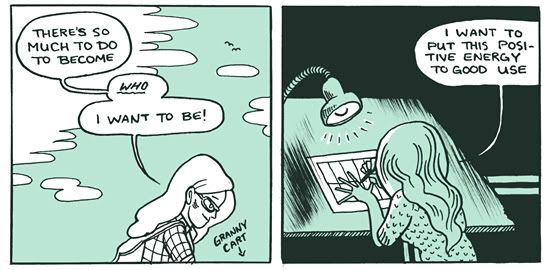 Now I am filled with passion and drive, and will go and make something. If not of myself, then of some paper!